---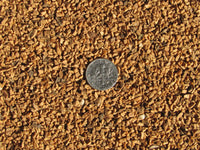 This abrasive Walnut Shell is excellent for using as a abrasive filler and carrier in tumbling Brass or other items in your tumbler.

Walnut shell grit is the hard-fibrous product made from crushed or milled walnut shells.

The walnut shell grit is Biodegradable, multi-faceted, angular and extremely durable. Yet the Walnut shell grit is considered a soft abrasive. A relatively soft nut shell abrasive for removal of undesirable coatings without etching, scratching, or marring surfaces.

If you have brass that has not been cleaned after several reloads, or you have some range pickings that are severely discolored from sitting on the ground for a long period of time, the more popular media to use is crushed walnut shell media. Walnut shell media is a more aggressive media than corncob and for that reason it is best used on heavily tarnished brass casings.

Treated walnut media can be used if you are going for a bright polish on your brass, you can add your own polish to untreated walnut shell media. Walnut shell media will work in both rotary and vibratory tumblers. However, vibratory tumblers get the best results from walnut media. I also carry Red Rouge Polishing Powder to help brighten your brass casings.

The pellets are tough, possess high strength and resist break down, but are non-abrasive in character. * Excellent reuse, low dust, and usable in all types of blast equipment. * Excellent media for tumbling and vibratory operations. * Reduces cycle time of finishing operations. For best results replaced periodically for best performance.

Also used for Reptile Terrariums *Creates a natural and attractive desert environment. *Excellent heat conductor. *Stimulates natural digging and burrowing behavior.