---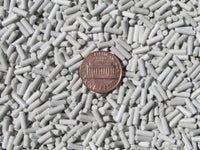 These nonabrasive ceramic pellets are excellent for using as a non abrasive filler and carrier in tumbling stones in your tumbler.
This is a porcelain media that has no abrasive in it. It is used to polish all materials.
It can be used as a second step or used alone when only a polish is required.
Can be used in all types of equipment.
*** Caution *** I would not recommend using this product when brand new for the polish stage. Before using, I would recommend running the media in the tumbler with water for a few hours to smooth out any sharp edges.
Product Specifications: *Manufacture: Manufactured in USA *Model: P Polish White Non-Abrasive *"Note: Coin in picture not included, for scale purposes only."